Jugar Puzzle Page - Daily Puzzles! en PC con NoxPlayer
Detalles
Última actualización :  2022-08-17
Versión actual :  4.9.1
Keep your mind active with a new page of your favorite puzzles delivered to your device every day!
Each day there's a new assortment of word, logic, number and picture puzzles to complete.
Puzzle Page includes over 20 varieties of puzzle including classics like Crossword, Sudoku, Nonogram, Wordsearch and Codeword with new puzzle types added regularly.
PLUS you'll find our new daily word challenge a new five letter word to guess each day!
• Use the
Calendar
view to browse and play over 1,000 past days' pages
• Collect
Special Issues
dedicated to specific puzzles
• Participate in limited time Puzzle Page
Events
to complete challenges and earn bonus rewards
• Track your progress with a detailed breakdown of your achievements and milestones
• Easy to follow instructions are included for each puzzle, as well as optional hints and difficulty options.
Puzzle Page brings you biggest selection of puzzles
WORD Puzzles
• Crossword
• Codeword
• Word Search
• Wordy (guess the five letter word)
• Word Snake
...and more!
NUMBER Puzzles
• Sudoku
• Killer Sudoku
• Cross Sum
• Futoshiki
• Kakuro
PICTURE Puzzles
• Picture Cross (Nonogram)
• Color Picture Cross
• Picture Block
• Picture Path
• Picture Sweep
LOGIC Puzzles
• Armada
• Bridges
• Charge Up
• Circuits
• Os and Xs
Subscribe for VIP access
Subscribe to Puzzle Page to play more daily puzzles and take advantage of all these great subscriber benefits:
•
Daily Pages Unlocked
Enjoy a new page of puzzles every day, plus free access to over 1,000 past days' pages. No tokens, no waiting!
•
Exclusive Special Issues
Browse a library of over 100 subscriberexclusive Special Issues thousands more (crossword, nonogram, sudoku...) puzzles to enjoy!
•
Remove Ads
Subscribe from within the Puzzle Page app for just $5.99 USD per month or $35.99 USD per year*.
Prices are subject to change. The first payment will be charged at the time the subscription is ordered. Subscriptions renew automatically at the end of the current period. You can manage your subscriptions from the Play Store App on your device by selecting Account>Subscriptions. On cancelling a subscription, you will continue to be subscribed until the end of the current billing period.
* Prices may vary by country, and are billed in the local currency.
Product support
Please select the [HELP] option from the menu if you require assistance.
Can't access the game? You can also contact us by email:
[email protected]
Puzzle Page is free to play, but contains optional paid items to help unlock content more quickly.
You can disable inapp purchase functionality in your device's settings if you do not want to use this feature.
Terms of use: https://www.puzzling.com/termsofuse/
Privacy Policy: https://www.puzzling.com/privacy/
Latest news
www.puzzling.com
twitter.com/getpuzzling
facebook.com/getpuzzling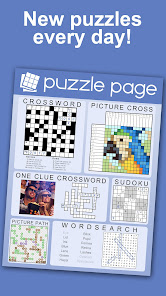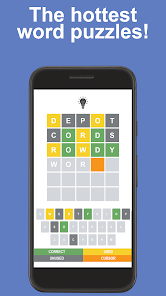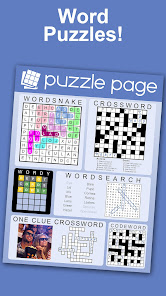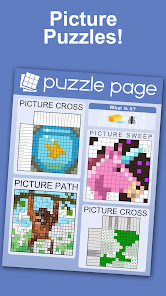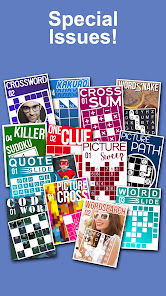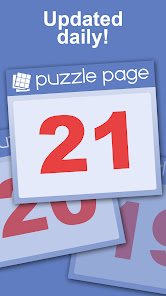 NoxPlayer te ofrece la mejor experiencia de juego.
Cómo jugar Puzzle Page - Daily Puzzles! en PC usando NoxPlayer
1Descarga NoxPlayer en tu PC

2Ejecutar el paquete de instalación y completa la instalación

3Buscar Puzzle Page - Daily Puzzles! en NoxPlayer

4Instalar el juego en Google Play

5Clic el juego para empezar

6Jugar Puzzle Page - Daily Puzzles! con NoxPlayer desde PC más fácilmente
Métodos simples
Método 1. Haz clic en "Descargar en PC" para descargar NoxPlayer y el archivo apk al mismo tiempo. Una vez que se complete la instalación, jugar el juego en la PC.
Método 2. Si ya tienes NoxPlayer en la PC, haz clic en "Descargar APK", luego arrastra y suelta el archivo en el emulador para instalarlo.
El maravilloso vídeo de xxx Puzzle Page - Daily Puzzles!
¿Quieres ejecutar Puzzle Page con una mejor experiencia? Con el beneficio de una pantalla más grande, un teclado más inteligente y un mayor rendimiento del hardware, NoxPlayer te ofrece una experiencia de juego extrema en la PC. Al descargar y jugar Puzzle Page en la PC a través de NoxPlayer, los usuarios no No necesita preocuparse por la batería o la interrupción de la llamada.\n\nNoxPlayer es compatible con Android 7 y admite la ejecución de más del 90% de los juegos móviles en PC, lo que mejorará tu experiencia de juego a la perfección. Además, al abrir varias instancias, Noxplayer admite la ejecución de varios juegos o aplicaciones al mismo tiempo, o chatear con tu amigo mientras juegas.\n\nNoxPlayer es perfectamente compatible con AMD e Intel con la exclusiva tecnología de virtualización central, lo que hace que tu computadora funcione de manera más estable y sin problemas. ¡Descarga NoxPlayer y experiméntalo ahora!
NoxPlayer está diseñado para Windows y MAC OS, visita este sitio web a través del navegador de tu computadora para descargar NoxPlayer